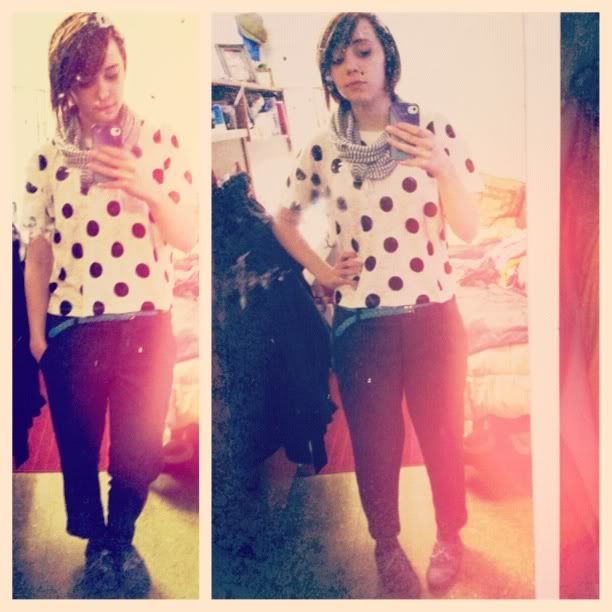 Shirt, pants, headband- F21/ Belt, tights- Target/ scarf- Walmart/ oxfords- Rack Room
1. I'm still alive. Barely, but I'm here! I'm still sick. I'm beginning to wonder if I really do just have a sinus infection. I'm going to try to get into the doctor tomorrow (ewwie.) because I've
got
to feel better!
2. So, what's this about a holiday tomorrow? Oh right. Valentine's Day. This is the first year in a while that I haven't had a Valentine, and really, that's okay. It's still one of my favorite holidays, and one of the few times I will willing wear copious amounts of pink and red. When I was younger, I would work in a flower shop around Valentine's Day. It was always
so much fun.
Stressful, yes, but it was so cute to see what guys would get their sweethearts. I know that someday I'll have that special someone who will stress over the perfect flowers, books, or chocolate to get me. (hint: I like tulips, hydrangeas, and dark chocolate.)
3. Lately, I've been okay with being single. It's given me time to really focus on my relationship with God, and I'm so thankful. I have to get myself healthy before I can expect to pour into someone else. To use a church-y phrase..."Your vertical relationship has to be right before your horizontal relationships are."
4. My society and our brother society hosted an open mic night last week. A friend and I sang Poison and Wine by The Civil Wars. It was a ton of fun. I really wish I had gotten it on video!
5. I am now sophomore class vice president for the rest of the year. Random. It's so weird I'm already a sophomore in college.
6. If you haven't listened to Fleet Foxes, I suggest you do so
right now.
I'll make it easy on you:
xo, Katy